Quickly understand how to boost individual, team and company-wide engagement in your business.
The concept of having a single employer for life is long behind us. Today's employees have higher expectations of their employers than ever before. The war for talent, increasing job mobility and the need to create a competitive advantage using human capital make solving the engagement puzzle a critical objective for all organisations.
Many organisations focus their engagement strategy on remuneration, benefits and the working environment. However, individuals, teams and entire workforces display clear differences in terms of the drivers of their engagement, and reliance mainly on remuneration and benefits often fails to achieve improvement in employee satisfaction. Just as critical is identifying employees who are actively disengaged meaning they are actually working against the companies goals. These toxic employees can have a large negative effect on overall performance. Research by Gallup on Employee Engagement in Australia indicates:
are Engaged
Produce the most output
are Not Engaged
Minimum effort required
are Actively Disengaged
Actually working against company goals
Actively disengaged employees in Australia are estimated to cost $70 Billion annually. Gallup 2013
Central to solving the engagement puzzle is being able to quickly and accurately measure the unique drivers of engagement in your workforce. Forsee's behavioural analytics help clients quickly understand and make practical decisions about how boost individual, team and company-wide engagement.
Forsee defines engagement as employees being satisfied and interested in their work, in turn motivating them to work harder and stay longer. Engagement is maximised by understanding employees' intrinsic motivators (expectations of what the employer should provide) and matching their extrinsic drivers (work environment/cultural) to these:
8 DRIVERS OF ENGAGEMENT
Engagement is not a one size fits all process. Provide your
managers with the tools to unlock each individual's drivers.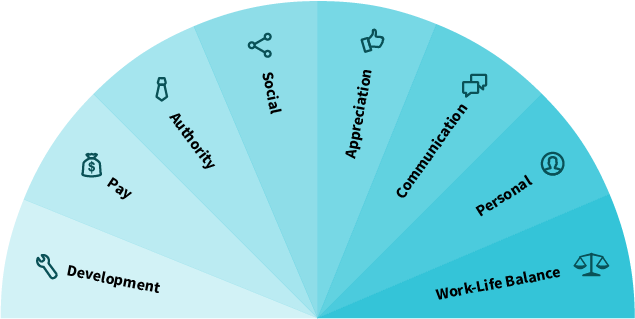 By profiling individuals, teams, departments and the entire workforce, Forsee provides engagement analytics that enable clear and simple actions to be taken to achieve the most cost effective increase in engagement for your people. The Forsee analytics enable the following engagement outcomes:
Identify gaps between employee expectations and motivators.
Facilitate the essential dialog between employee and manager.
Foster a shared responsibility for engagement.
Create a culture of engagement.
Align employee intrinsic factors with organisational extrinsic factors to maximize engagement.
Predict performance, engagement and retention by matching proven job specific success factors to individual competencies, employee needs and engagement factors.
Provides Comprehensive Reports with Results Dashboard.
Includes Actionable Expectation Analysis.
Aligns Engagement Strategies with Employee Expectations.